12/3/2018 - 16/3/2018

We have had another busy week this week in year 2. We have been creating our own book called 'The Great Dragon Encyclopedia' where we have been creating fact files about dragons. We have written about what dragons look like, what dragons personalities are like, dragons habitats and dragons food. All week we have created our fact files, edited them, improved them and finally published them in our very own book.
We have continued to learn about fractions this week in maths. We have been finding halves and quarters of shapes and amounts and we have even began finding equivalent fractions using apples! We know that 2 quarters is the same as 1 half!
Finally we had a fantastic time in the kitchen this week creating medieval dishes. We spent all day on Wednesday making our bread and butter, making pastry for our tarts and even making our own cheese. On Thursday we were so excited to share our food with all of our parents and teachers, we had a brilliant medieval feast and there was definitely enough food to feed an entire castle!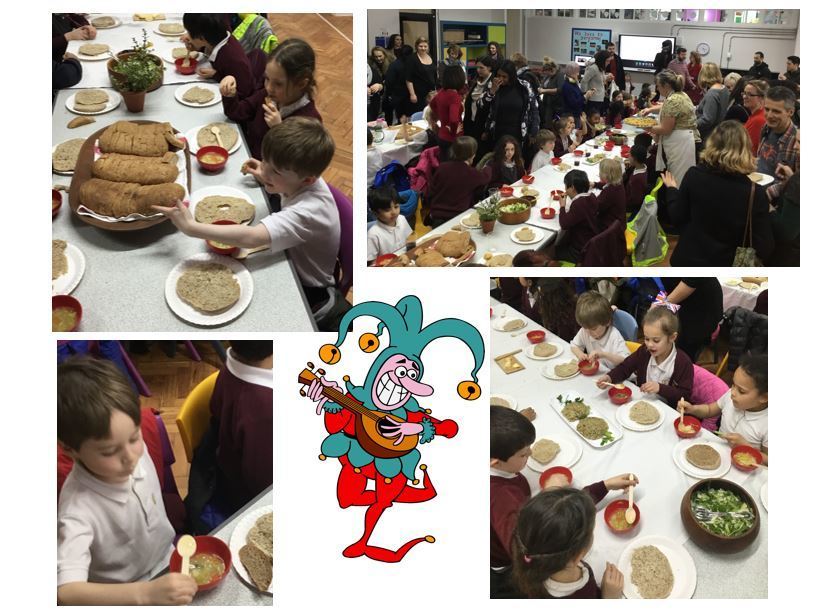 26/2/2018 - 9/1/2018
We love hearing and telling stories in Year 2 so we have had a fantastic 2 weeks celebrating World Book Day. We particularly enjoyed reading after lunch every day and found this a very relaxing way to start our afternoon! We celebrated our half a world book day with a Book Bonanza quiz with year 4, the children worked well in mixed teams to answer book related questions, it was such a close quiz that it came down to a tie break question to find our winning team!
We have been reading our library books as much as possible in the classroom the last few weeks and we will be sad to return them next week, but we are already looking forward to our next library visit!
With the snow cutting World Book Day and our week of reading celebrations short we were very excited to finally have our visit from Michelle Robinson on Friday. Michelle's assembly had us all laughing and thinking up silly sausage adventures. Later we got to have a creative writing workshop with Michelle where we wrote postcards as sausages on a sausage adventure, it seems like it is great fun to be an author and we ended our week feeling very inspired!
19/2/2018 - 23/2/2018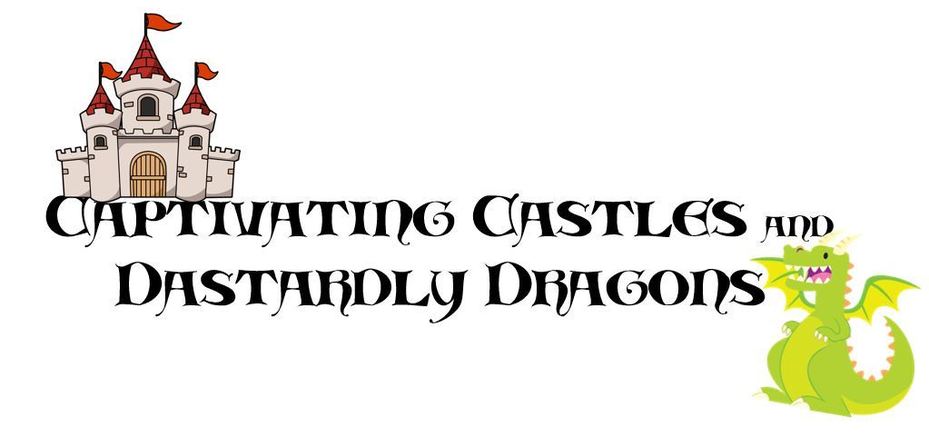 We have jumped straight back into our learning this week with the introduction of our new topic 'Captivating Castles and Dastardly Dragons.'
We were introduced to our new book, that will be a focus for our writing this term, 'The Dragon Machine.' Before we read the book we used our inference skills and our prediction skills to try to work out what our story might be about. We then got given the book all jumbled up and had to work collaboratively to order the story!
We also got creative about castles this week with our art project. We used sponges to create a brick effect on the outline of our castles and then used coloured paper to add detail like windows, a drawbridge, arrow loops and towers.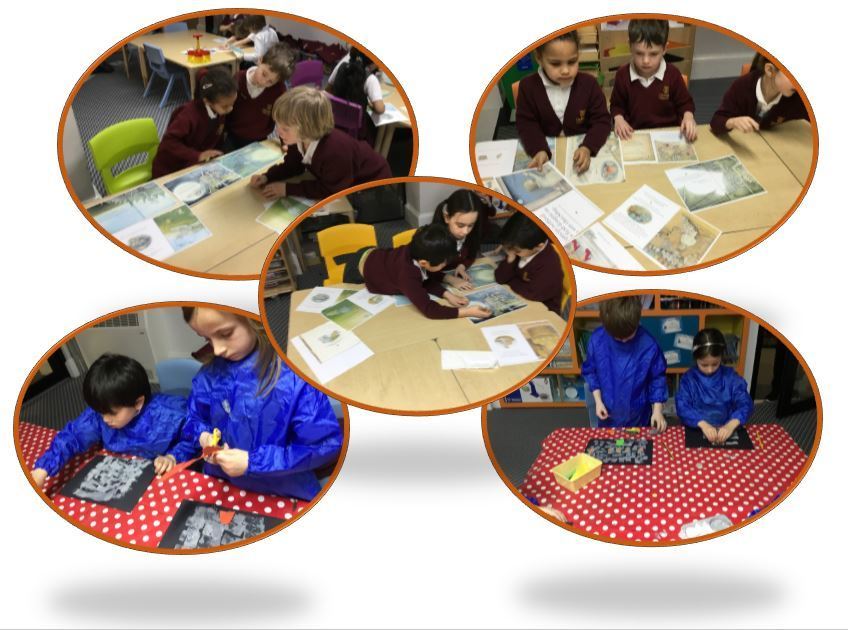 5/2/2018 - 9/2/2018

We have had so much fun this term learning all about space and the International Space Station!
This week we received our final letter from NASA congratulating us on our hard work. Like all good scientist we evaluated our research into making rockets and what would happen to plants on other planets. We wrote letters to Tim Peake to tell him everything we had learnt and to ask him some questions about life in outer space. We were so excited to watch the incredible launch of Falcon Heavy on Wednesday and we can't wait to see more images of a car in space! Finally we celebrated the end of a super topic with an afternoon and space crafts!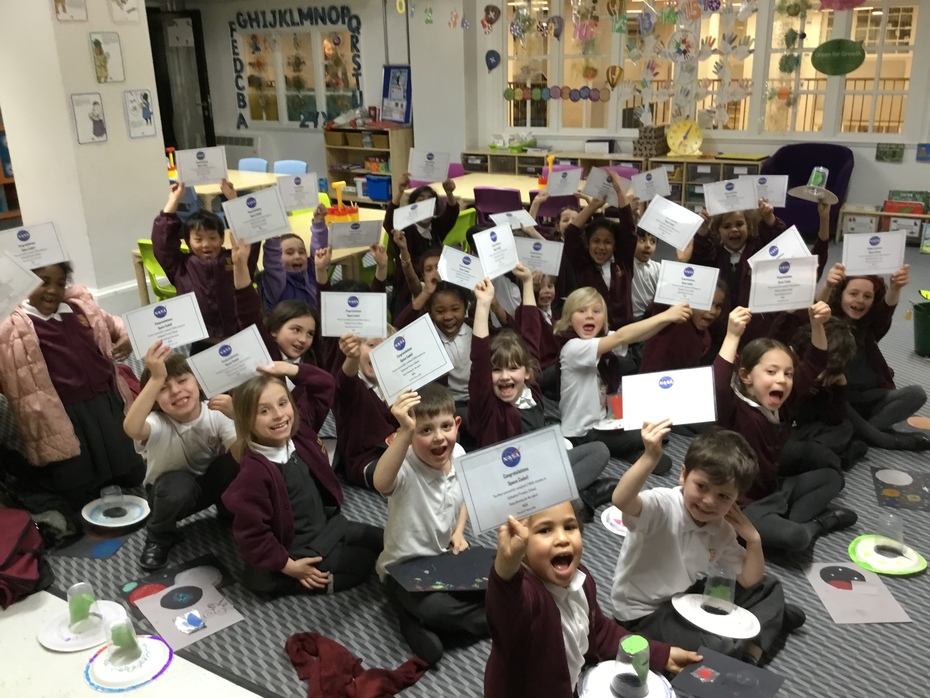 29/1/2018 - 2/2/2018

This week we received our third and final mission from NASA. This week our mission tested our collaborative skills, in particular how well we could share and build on ideas and how well we could work to a brief. Our brief from NASA was to create a rocket that could safely hold a toy figure when launched from the balcony in the school hall. All the children did a fantastic job planning and designing their rockets, paying particular attention to where the figure would be stored safely. Everybody worked well in their team to create a rocket using junk modelling, on Thursday we then launched our rockets in the school hall. Nearly everybody managed to create a rocket that could hold an astronaut when launched, another successful mission achieved!