13/11/2017 - 17/11/2017

What a busy week we have had! Not only have we had a busy week of learning but it has also been Anti-bullying week and Children in Need! All week we have been talking about what bullying is, what we should do if we know it is happening and how to fight bullying with kindness! We kicked off our week with a special anti-bullying assembly where we talked about how we are all different and unique. In class we came up with different scenarios and decided whether this would be bullying or children not be kind or not following the school rules. To help us focus on making our school a kind place we made a kindness paper chain of all the kind things we are going to try and do. Finally we worked collaboratively to make our own comic book strips about bullying and the right thing to do if something happens to us at school. I was so impressed with how well everybody shared out the jobs of writing, drawing and adding speech to our comic books!
We even managed to squeeze in some play practice this week. All children should now have their lines if they have a speaking part, and a letter with suggested costume ideas. If you can practice your child's lines with them at home that would be a huge help!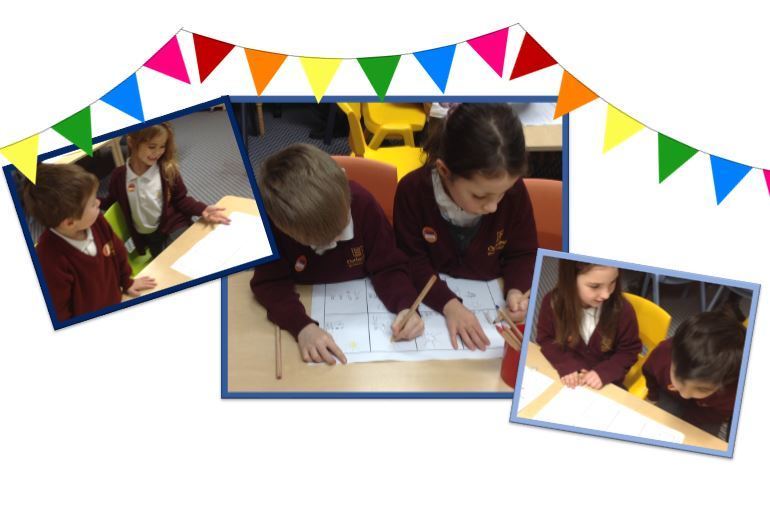 6/11/2017 - 10/11/2017
This week we have continued looking at lots of different vehicles but this time by looking at their appearance. We looked closely at different vehicles and used our sketching techniques to create still life drawings of a range of modes of transport. We were very impressed with the detail everyone managed to include and how real they all looked.
We took a closer look at boats this week and found out that there are a lot of different uses for boats! We did a class experiment to find out what would be the best material to make a boat out of, we decided that the best materials would be those that are waterproof and that can float!
We have also began practising the christmas play this week and we will be sending home lines and play parts very soon!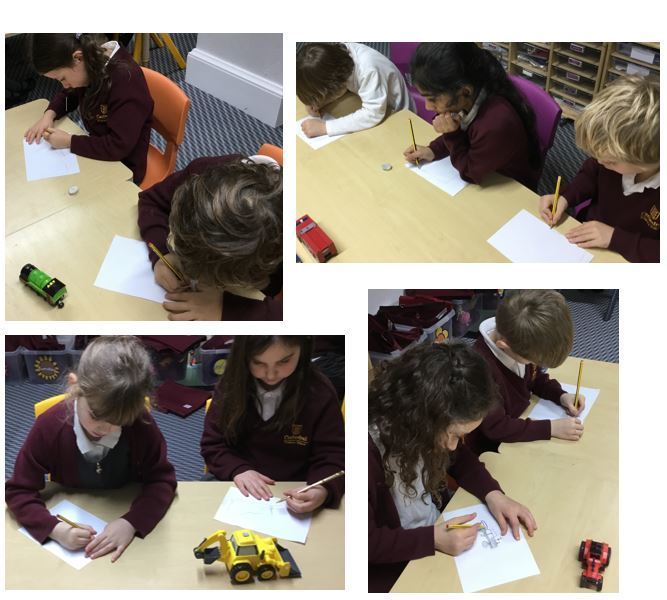 31/10/2017 - 3/11/2017

Welcome back to term 2 in Year 2! The children had a fantastic first week back and settled straight back into the classroom. Everyone was very excited to find out about our new topic 'How Far Can We Go?' We thought of things that we would like to find out by the end of this term and we are looking forward to trying to answer as many of them as we can! Here are some of our investigation questions for this term...
How far can we go into space? Leo
Why does fire come out of rockets? Shayna
What was the first ever vehicle? Mikai
Who invented the aeroplane? Ayyan
How do vehicles move? Sam K
We have began our vehicle investigation by finding out about different transport used around the world. Lots of us thought that Gondolas would be good for the environment as they don't have an engine or use any petrol and most people thought that sled dogs from Alaska would be the most fun!
16/10/17 - 18/10/17

We did it, we managed to travel to every continent in just 6 weeks (with the help of a homework trip to North America). We finished off our term of travels by celebrating food from all around the world. We tried cous cous from Morocco, prawn crackers from China, nachos and salsa from Mexico, quinoa from Peru, brioche from France and turkish delight from Turkey! We were so impressed that everybody tried everything, even if nobody thought the quinoa looked particularly tasty! We came up with lots of interesting adjectives to describe the food and used these words to write a recount of our continent food tasting. What a fantastic way to end a brilliant first topic!
Have a great half term everybody!