PE will change back to Monday mornings in Term 5 and will take place at Failand. Children should wear their PE kits to school in the morning and bring their uniform to change into. Spellings will be given out and checked on Wednesdays. Please ensure that your child has their red spelling book with them on this day as well as their reading record to be checked.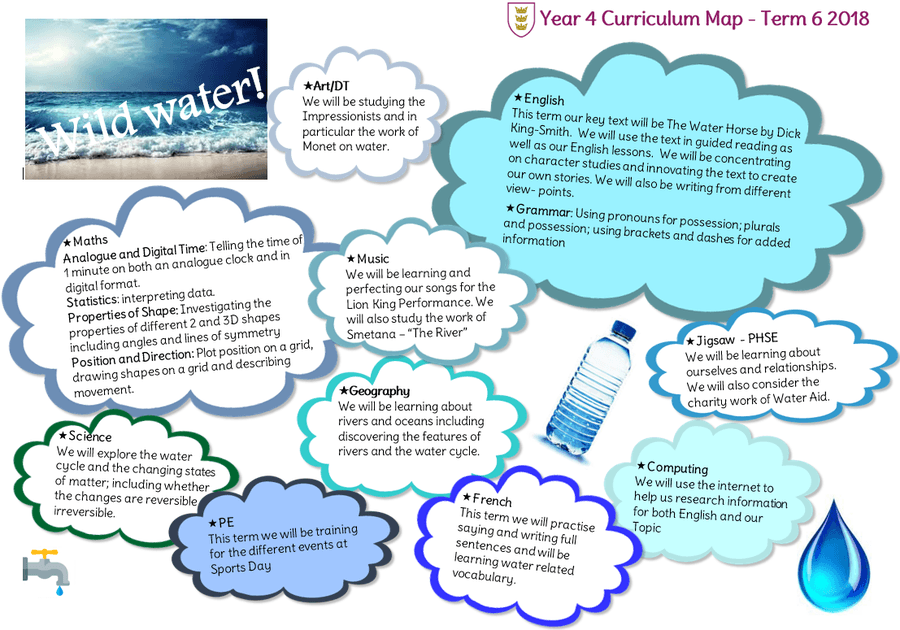 Working Scientifically with the University of Bristol
The Year 4s were lucky enough to take part in a Science workshop with students from the University of Bristol last week. They investigated ways to stay healthy and how our bodies are affected by exercise. The children worked in two groups. One focused on comparing our resting heart beat with our heart beat after exercise, the other compared our height with our lung capacity. The results were carefully recorded and presented in graphs which the groups then used to discuss patterns they noticed and draw conclusions. It was an excellent way for the children to think about how to carry out a scientific investigation. A big thank you to the students for a fun and educational afternoon.
A boat trip down the River Avon...
What an enjoyable day we had floating down the River Avon and learning all about the river and its history as well as bird spotting and looking out for wild flowers. Once we'd set off, we had to navigate two swing bridges and a lock before entering the Avon gorge and going underneath the suspension bridge as far as Pill. Our guide told us so many interesting facts and the children were very keen to fill in their booklets, including our nature spotting sheets. We saw the mast of a sunken boat and spotted numerous herons and various different ducks along the way. It was fantastic to see parts of the city from this new perspective and to think back to the days when Bristol relied heavily on the river as its main trade route. The children thoroughly enjoyed the day and learnt a great deal.
A Super Week of Sports!
The Year 4s must have been exhausted by the end of last week having done PE on Monday, our school Sports day on Wednesday and the Cross Trust Year 4 Sports event on Thursday! It was fantastic to see the children showing such good sportsmanship, determination and a sense of fair play and I was extremely proud of how well they represented the school at Headley Park on Thursday. Everybody had a go at all the different sports and approached the ones that they'd never tried before such positivity. Who knows, maybe we have inspired a future curler, hockey player or cyclist!
Welcome Back!
I hope you had an enjoyable half term and are ready for the 6th and final term of the year. It's certainly going to be a busy one with two Sports days and a Lion King production to get ready for! As you can see from our curriculum map, this term is all about water and so far this week we have learnt all about the water cycle. Ask the children to sing you the Water Cycle Song we are learning!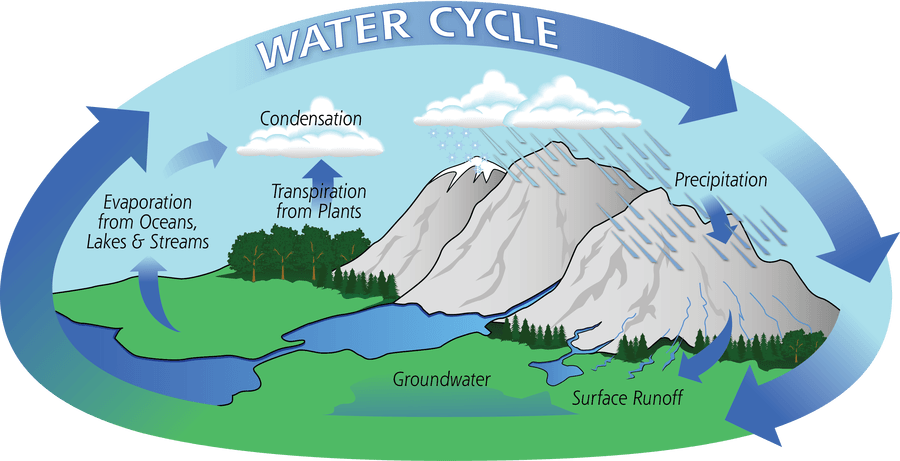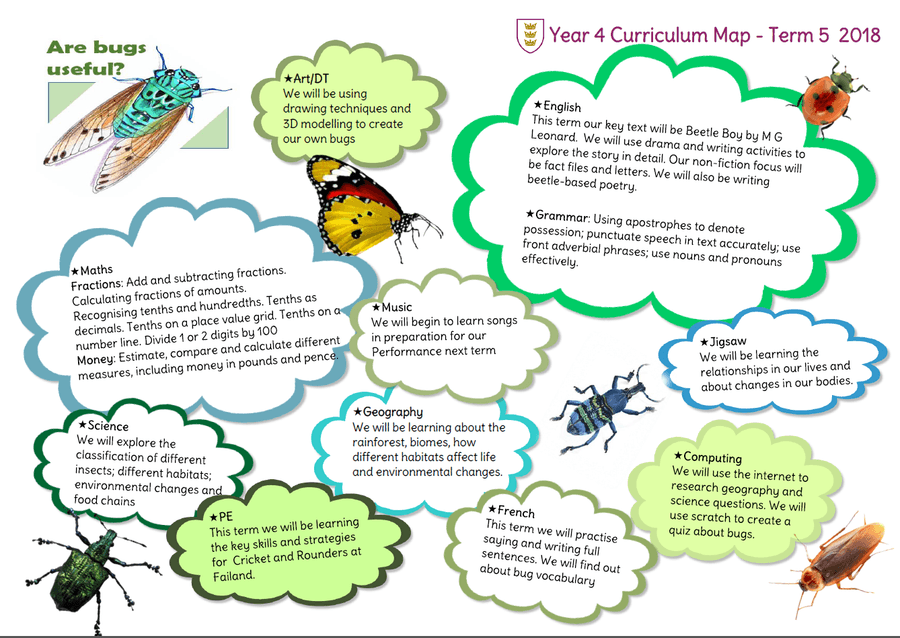 We go under the sea for our 'Arts Week' exhibition...
The hard work of everyone in the school was put together in an amazing under the sea display on Friday. We had a lovely time walking around seeing everything that the other classes had been doing and telling people about our work.
Arts week was a busy week of making clay boats and painting them, working with children in different classes in our mixed age workshops and learning how to do block printing with our visiting artist, Ella Rice. We also explored the art of poetry and thought about the very real problem that our seas are facing at the moment; that of plastic pollution. The children wrote passionate poems using personification to create the image of the sea's suffering.
Some Creepy Crawly visitors...
On Friday afternoon, we had a visit from Zoolab and some of their weird and wonderful creatures. We learnt about different animals and their habitats as well as the way that animals have adapted in order to survive. We met two of the greatest survivors: the cockroach and the rat and some of us were brave enough to hold many of the other visitors including a corn snake, a bearded dragon and a tarantula! The children asked some fantastic questions and had a very enjoyable afternoon.
Wild flower planting with Urban Buzz...
On Wednesday we had great fun digging, raking and planting outside the Cathedral with a team from 'Urban Buzz'. We had time between our hard work to learn about why it is important to have wild areas available for our pollinators who help to pollinate much of what we eat. The children were horrified to hear that we would not be able to have chocolate if it were not for the flies who pollinate the cocoa plants! We learnt lots of plant names including 'sorrel' and 'goats beard' and finished the session by scattering wild flower seed in the area. Hopefully we will see these bloom over the next few months. When we returned to school, we made seed bombs using clay and wildflower seed which we will scatter in green areas around the city to help our local pollinators. A big thank you to the team at Urban Buzz for such an enjoyable and educational morning.
Assessment day at Forest School
The children put all their skills to the test this week at Forest School. They were put into groups and given a kit which they had to use to build a shelter and a fire completely independently (an adult was supervising each group to ensure everything was safe!). Team work and good communication was essential when finding a suitable site and helping with skills such as knot tying and wood collection. All the adults were very impressed with the children's attitude and ability to complete the tasks. They have learnt such a lot in the last 6 weeks. Thank you Mr Withers!
The Gruesome Bush Tucker Trial!
The Year 4s had an unexpected start to the term... their first activity was a quiz to launch our new topic 'Are bugs useful?' but there was a twist... after each round the teams had the chance to win bonus points by choosing an envelope from a bucket of meal worms! Some teams were lucky and earned free bonus points. Others were not so lucky and had to decide whether they were going to eat a bug (an edible, protein rich bug!) or go without the bonus points. As the rounds went on, the bugs got bigger and the competition more intense! In the grand finale, two very brave boys took on the biggest challenge of all - eating a real scorpion! As a result of this adrenaline filled afternoon, the children wrote some fantastic recounts describing the experience!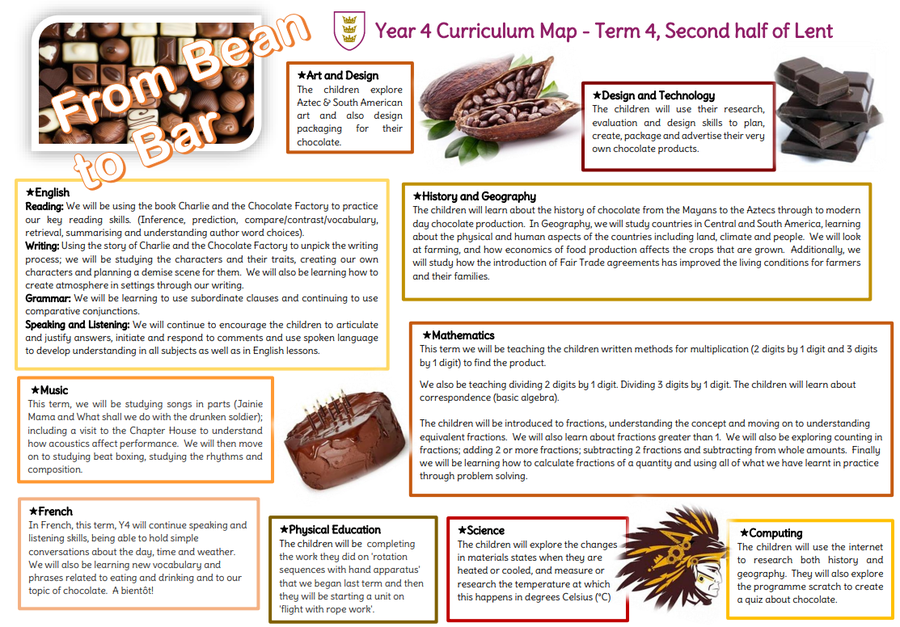 The Chocolate Production Process...
The moment the children had been waiting for finally arrived this week as they finally made it to the cookery room to create their chocolate inventions. The teachers, on the other hand, were soon regretting the ambitious decision to create the chocolate from scratch as each day the cookery room was filled with clouds of cocoa powder and the fridges were filled with chocolate that refused to set! Nevertheless, the day of the long awaited chocolate sale arrived and with the emergency purchase of copious packets of Rich Tea biscuits, the various chocolate creations were adapted and packaged into their carefully made boxes. A huge thank you to all parents and children who came to support the sale. Hopefully, we will have made enough profit to buy something for our class.
Failand is transformed into a winter wonderland
We didn't expect to be doing Forest School in the snow in the middle of March but what a treat it was to see the woods looking so magical and what better place to have an enormous snowball fight?! The children helped to chop wood to keep the fire going, built shelters (which later became snowball stores and places to hide from their rivals) and others built their own fires which were much appreciated by those whose hands needed warming after snowballing! And what better way to end the session than buttery toast cooked on the fire?
Chocolate Tasting!
Hmm... who'd have thought learning could be so tasty! This week we had some important market research to do in preparation for inventing our own chocolate bars. This simply couldn't be done without tasting 8 different types of chocolate. We tried everything from dark chocolate with chilli to white chocolate with vanilla... with very varied reactions from the children. We rated each chocolate on its packaging, its aroma, its texture and its taste and charted our results to show the most popular all round chocolate. Don't forget you can come and buy our creations on Thursday 22nd March after school in the hall (just in time for Easter!).
World Book Day!
'Twas a snowy and windswept morning...Strange figures began to emerge through the mist, battling the blizzard. Characters from every type of book imaginable made their way into Cathedral Primary School.
Although cut short by the weather, the children enjoyed a fun-filled morning of book related activities including a highly competitive quiz and a video message from Michelle Robinson, our visiting author who unfortunately didn't make it through the snow. Luckily, she revisited this week and we were able to find out all about the life of an author and how we can be great authors. We took part in workshops, writing postcards from the point of view of a sausage!
If you go down to the woods...
...you'd better take some Year 4s with you as they now know how to make shelters fit for a comfy night's sleep protected from the elements! We used our collaborative skills and problem solving to work together to find a suitable spot and construct a sturdy shelter using the materials available. Our knot tying and other practical skills were certainly put to the test too! Thank you Mr Withers and all the other adults, for another great adventure at Forest School.
A Golden Ticket?
What an exciting morning we had when we came in to find real Wonka Bars in our drawers! And inside... yes, you guessed it! There were real Golden tickets! The message invited us to a day of chocolate making and selling dressed up in Charlie and the Chocolate Factory dress! We hope you can make it to see our costumes and buy some of our scrumptious chocolate inventions on Thursday 22nd March after school in the hall.
Highlights from Term 3
This term has flown by with yet more amazing work from everyone in Year 4 and some fantastic experiences along the way. We'd like to share our beautiful mountain collages which we created over a series of lessons. First, we experimented with a range of different water colour techniques to create different shades and effects. Once these were dry, we tore or cut these pieces and layered them to create mountain ranges. This went alongside our other work on mountains where we looked at different mountain ranges around the world and also learnt about the famous Everest expedition of Hillary and Norgay in 1953. The children wrote fantastic diary entries from the point of view of Edmund Hillary, describing how he felt on this momentous day.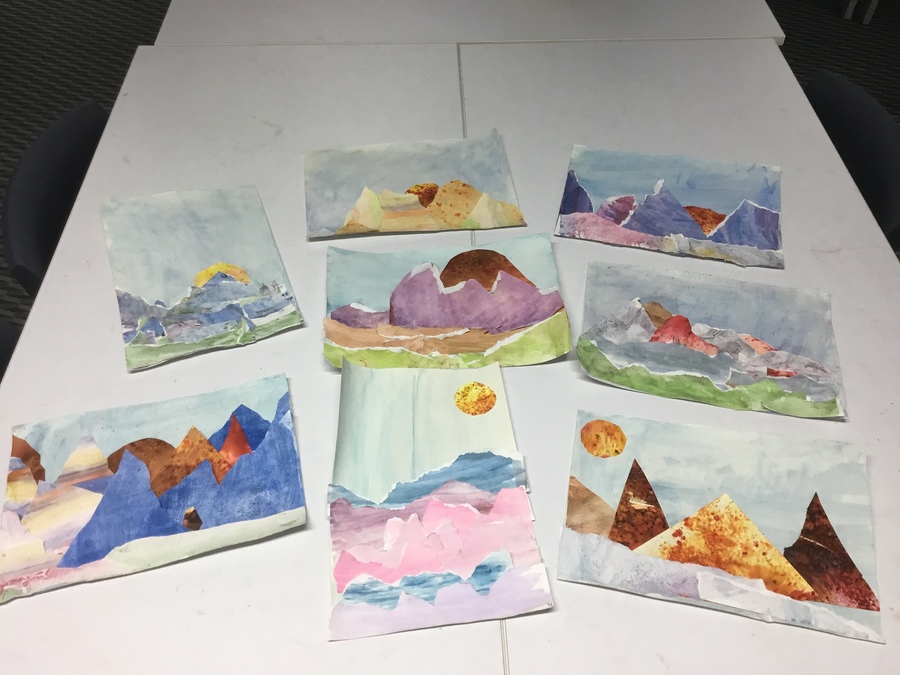 Pancake Day in the Woods!
Because pancake day falls in half term this year, we decided to celebrate at Forest School and add the extra challenge of having to build, light and sustain our own fires... The pancakes tasted extra delicious as a result of our hard work!
Internet Safety Day!
We had some great discussions this week about how to stay safe online as well as all the positive things that the internet can bring. The children worked collaboratively to create these eye catching posters to remind ourselves of the important things we can do to stay safe.
Reggae class become students of 'The School of Noise'!
What a busy and exciting week we've had in Reggae class. On Monday we welcomed a visitor all the way from The School of Noise in London. He had brought with him an incredible variety of machines and gadgets all linked to our topic of Sound. We had an amazing day learning about the Science of sound and experimenting with different equipment such as a Morse code machine, an omnichord and a waterphone (ask Year 4 to tell you about these and the other things we used!). We made incredible Chladni patterns from sand, formed using the vibrations from high frequency sounds and even plugged different fruits and vegetables into an Ototo machine to create a very weird and wonderful drum kit! We even got the chance to be sound effect technicians, using everyday objects to create the sound effects for the new Moomin film. The Year 4s were blown away by the different things they saw and experimented with. Many were inspired to move into the world of sound effects in the future. Thank you to Dan from the School of Noise for such an amazing day!
Compositions of all kinds...
There has been even more creativity in Reggae Class this week as well as collaborative group work. We have been writing play scripts in English, composing music for our performance of Treasure Island and the third and fourth groups for cookery have designed and made their pizzas. We also started our water colour collages of mountains which we will put together next week.
Our musical compositions involved working as a team, sharing ideas and practising together so that everyone knew what they had to do. Some groups chose to elect a conductor to help keep the group in time. Our pieces of music will be used to introduce the different settings during our Treasure Island play so we had to think carefully about which instruments would work best for the jungle, the coconut grove, the waterfall and the stormy mountain. Our next step is to perfect and adapt our compositions, having listened to the feedback from this week's performances.
Getting creative!
It's been a creative week all round in Reggae Class. We have been busy writing stories with a moral dilemma based on Peter and the Wolf in English, designing our own pizzas in cookery and thinking creatively to solve puzzles in Maths. On Friday, we had great fun exploring the features of play scripts and acting out different plays in groups. Thinking about how the story is told through the actors as well as which stage directions were useful will help us next week when we start to turn our moral dilemma stories into play scripts.
In Music, we have been working on singing a Caribbean song in a round and What Shall We Do With The Drunken Sailor in four parts! Both of these songs will be integrated into our class performance of Treasure Island which will also involve using music we have composed to help set the scene.
Lights! Camera! Action!
This week the Year 4s have been busy working on a collaborative group task involving planning, scripting and directing their own Science videos explaining different aspects of how sound works. They have shown so much enthusiasm for the project, bringing in props from home, rehearsing lines and thinking carefully about how best to capture their audience's attention. Watch this space! We may have a budding Spielberg among us!
In Maths, we have been practising our 6x table facts and using these to solve problems and make links with other multiplication facts. Don't forget to practise the facts at home!
In English, we have planned our own moral dilemma stories using the structure of Peter and the Wolf to help us. I am looking forward to reading the finished stories next week!
Happy New Year!
Happy New Year from the Year 4 team! It has been a very short first week back - just enough time to introduce our new topic, "Good Vibrations", launch our times table challenge and begin our new book study into Peter and the Wolf. On Thursday, we went on a sound walk to see what different sounds we could hear around the school and think about how the vibrations were made to create these sounds.
On Friday, we had our first indoor PE session during which we practised our balancing skills. It was fantastic to finally get the chance to use our new hall for PE.
A big thank you to the PTA for our new books about sound and light! We are already enjoying reading them and they will be very useful throughout this topic.
Festive Forest School and Christmas Cooking
We were lucky enough this week to spend an afternoon up at Failand practising our Forest School skills and getting festive. We used our sawing to make Christmas decorations and then used a real electric drill to insert Christmas lights onto our wooden Christmas trees made out of old pallets. We had to do some careful Maths in order to space our holes evenly between the slats so that the lights shining through would look effective. Now that the trees have been painted and the lights are all ready, they are helping to make our classroom look even more festive. After all that hard work, we managed to find enough time to fit in some toasting of marshmallows before heading back to school.
Also this week, some of us had our first cookery session with Mrs Oakley in the new cookery room. We made ginger bread men and practised our rolling and icing skills! The other two groups will have a go after the holidays.
Don't forget to come and see us in our concert on Tuesday 12th December straight after school in the Cresswell Theatre.
Reggae Class Prepares for Christmas
The Christmas countdown has officially started in Reggae Class. We have had fun this week making decorations for the hall and rehearsing for our Christmas concert. Finally, Friday came and it was time to open the first door of our advent calendar. In addition to receiving a small gift, we have each written a small act of kindness which will be selected each day for someone to complete! Who knows, you may be the lucky receiver of one of our kind acts!
Some of the children in our class had the opportunity to work with the team from Touchwood on Friday to help decide how we can make our play area better. It sounded like a lot of fun testing different play equipment and we look forward to seeing the designs!
A big thank you to Mrs Clarke for coming in on Wednesday afternoon to help us make our pom poms! They look great!
Term 2 - Week 4
Despite the changeable weather, Reggae class have kept busy and happy this week with lots of different activities. In English, we are learning how to write newspaper reports using the incredible story of 'The Boy Who Harnessed the Wind'. It's a true story about a 14 year old boy who uses perseverance and ingenuity to build a windmill, which can pump water from the ground, for his drought-stricken village in Malawi.
On Tuesday, some of us were lucky enough to attend an athletics event after school with Mr Baynton. It was great fun taking part in the different activities and competing against the other schools and we came 3rd overall! A big thank you to Mr Baynton and Mr Skipsey for taking us.
In our topic work, we have been investigating which materials are conductors and which are insulators by incorporating different objects into into our circuits and seeing which ones allow electricity to pass through.
And finally...don't forget to order your Year 4 Christmas cards before they sell out!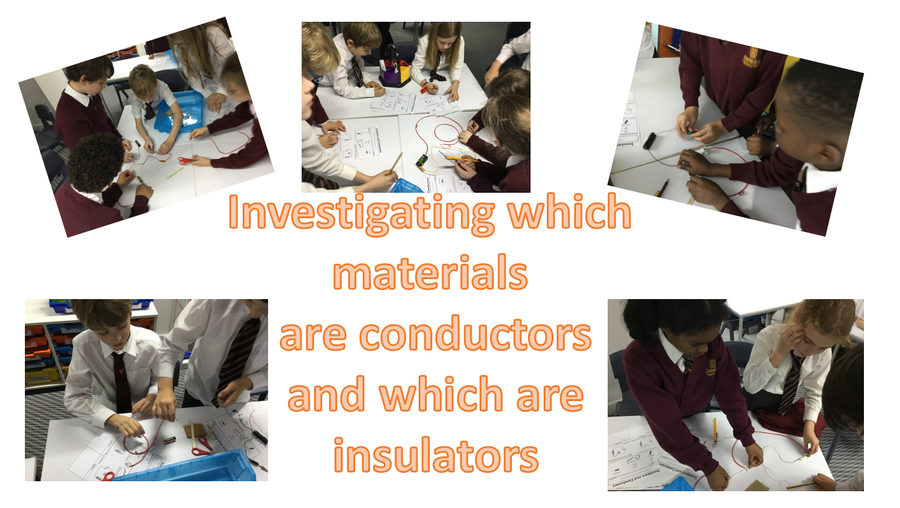 Term 2 - Weeks 2 & 3
It's been a very busy two weeks in Year 4. We have been continuing our topic of Bright Sparks, learning lots about electrical circuits and different inventors. In English we have been studying a book called "Nikola Tesla - Electrical Wizard". We have learnt lots about Nikola Tesla's life (If you didn't know, he's the inventor of AC (alternating current) and have written our own in-depth biographies of his life.
In art, we had fun finding out about different sketching techniques, and how light sources affect the way we use light and shade in a portrait. Have a look at some brilliant examples of the portraits the children produced below.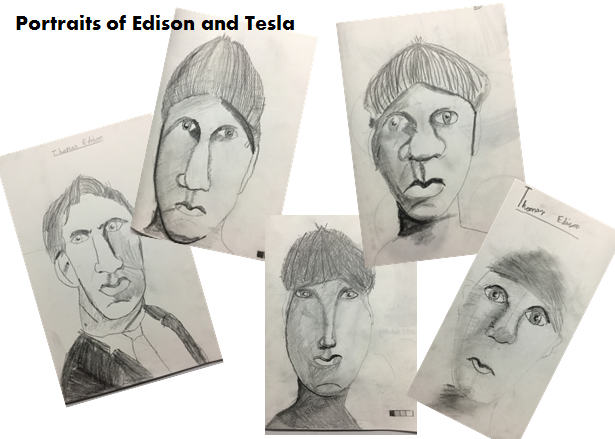 We have also been learning how to use powerpoint in computing and took the opportunity to collaborate with a partner to research a different inventor and create a short powerpoint presentation about them. We presented some to the class.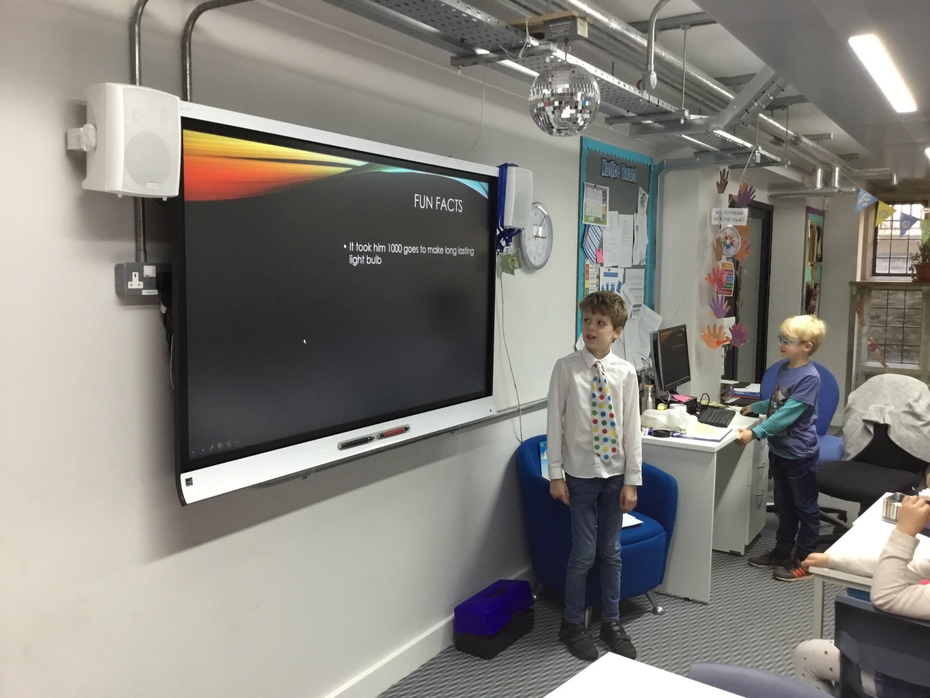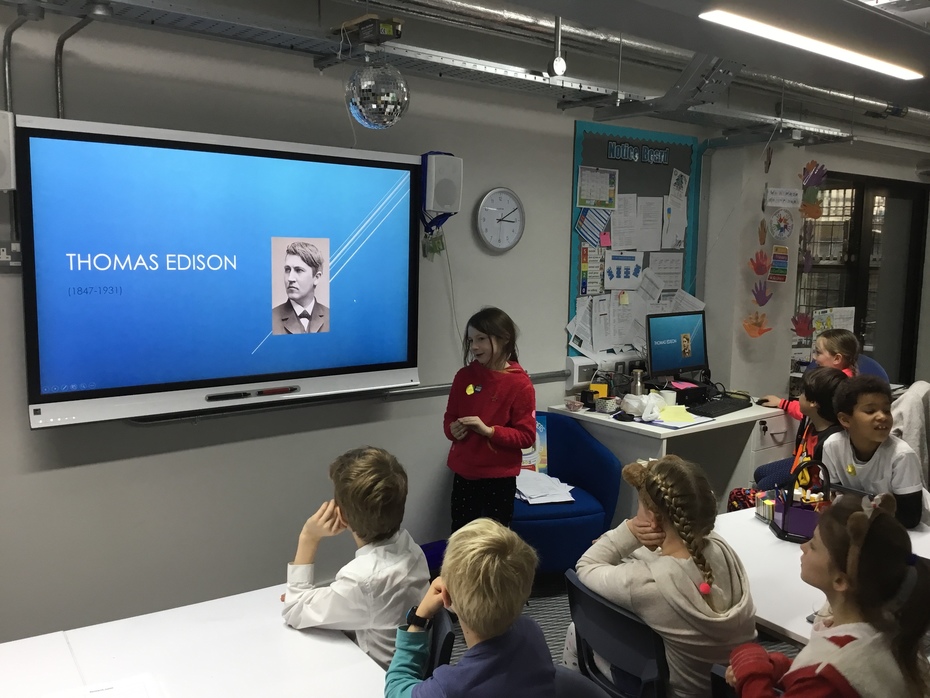 This week has been anti-bullying week at school. In English this week we discussed the subject in depth and then used the trailer to the new film of "Wonder" as a stimulus to create poems about what it feels like to feel different. Here is an example - we hope you can hear it well - please turn up your volume! Thanks
A big thank you to the sixth form students from BCCS, who came in on Wednesday to show us their woodwind instruments and let us have a go at playing them. Having played our 'Dudes and Toots' for 8 weeks now, some of us are feeling inspired to go on and learn real woodwind instruments. We listened to the students playing the oboe, clarinet, flute and bassoon and asked them questioned to improve our understanding. Then it was our turn to have a go! Hopefully, we have some future woodwind players amongst us!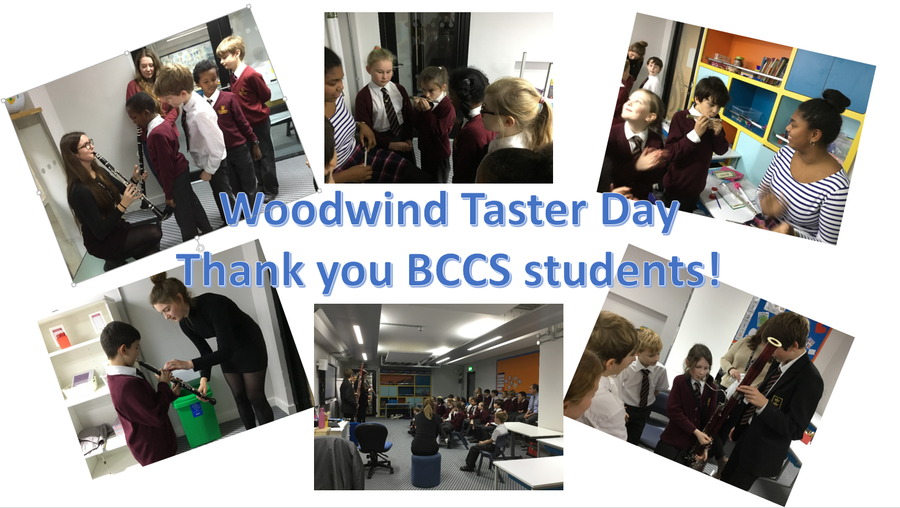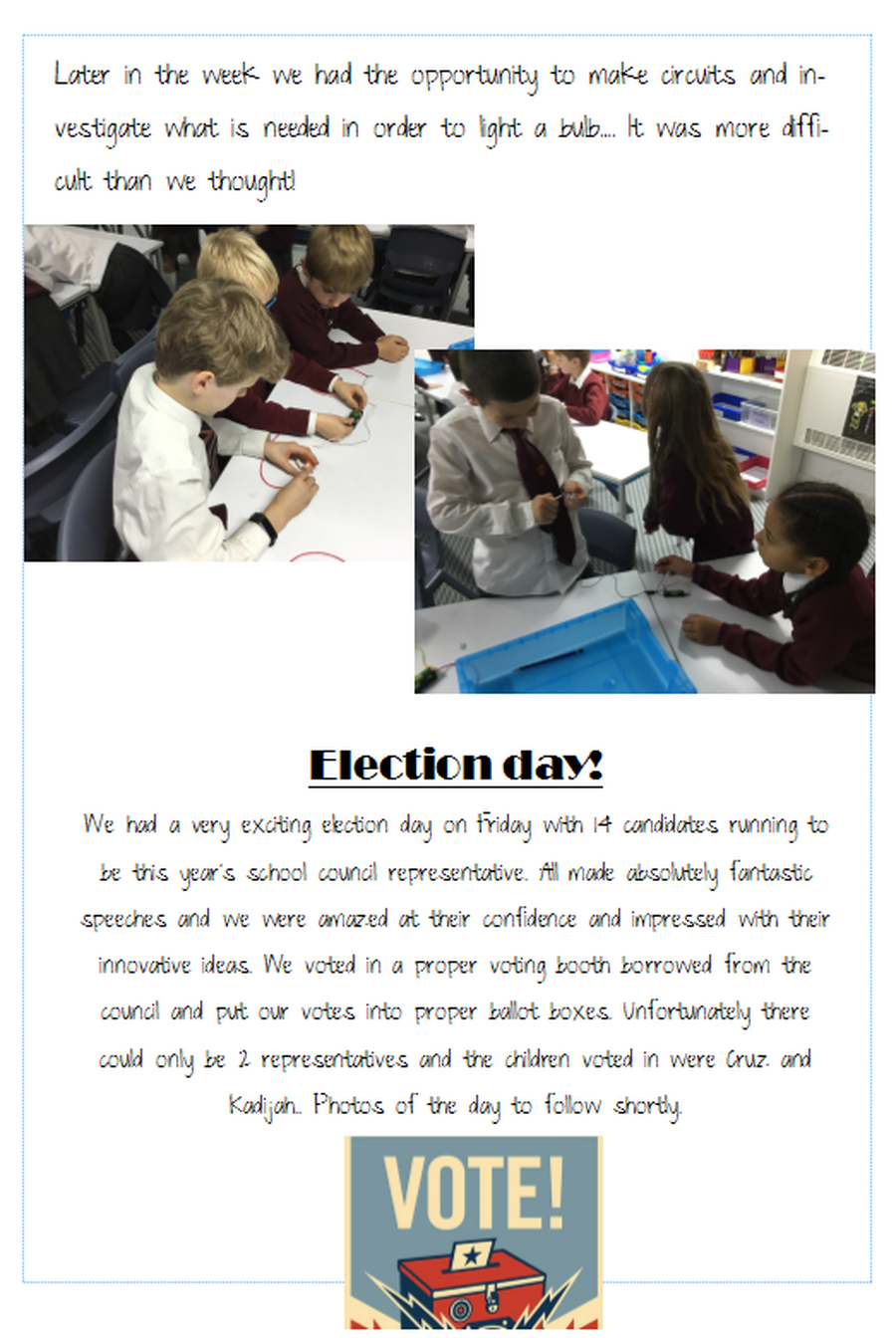 Term 1 - Week 7
Although it's been a very short week, we've managed to cram a lot in! We had our class assembly on Tuesday where the children sang their hearts out with our Stone Age version of 'We Will Rock You' as well as a song about the New Stone Age. We also performed our favourite Stone Age poem, 'The Quarry' which recounts the tale of a mammoth hunt. Thank you to all the parents who came to support and also helped children to learn lines and practise song words!
On Wednesday, we had an inspiring morning learning about important black people throughout the world whose actions helped to change laws and prejudices in society. We worked in pairs to research our chosen figure and made bright colourful fact files which we presented to the class. We learnt about so many inspirational people and were amazed by their courage and achievements.
Term 1 - Week 6
It's been another busy week in Reggae Class. We had our trip to the museum on Wednesday where we got to hold tools that were over 500,000 years old! We then held a Neolithic axe head which had been shaped using sand and water. We also looked at bronze axe moulds which helped us to imagine the smelting process that we wrote about last week.
For those who have been wondering, the results are now in from our tooth decay science experiment. After nearly two weeks, it was pretty disgusting to open the jars and see what had happened to our eggs! The smell was horrendous but we managed to put this to one side and look at the effect that each drink had had on the enamel of the shell. Interestingly, the Ribena light had caused more damage and discolouration than both Coca-Cola and the full sugar Ribena. However, the egg shell that was most damaged was the one in the orange juice which had severely corroded the shell. As expected water and milk had done the least damage.
Finally, we ended the week with a lovely day of celebrating the new opening of our school. We not only met a famous author and had our new books signed, but we also got to meet the Mayor of Bristol and ask him questions about his job (as well as his family and pets!). We were very pleased to take home our celebration cakes and bookmarks at the end of the day!
Term 1 - Week 5
This week we moved from the Stone Age into the Bronze Age and learnt about the process of making bronze. We also thought about the ways that lives would have changed as a result of this new discovery. We have written detailed explanation texts for you to find out more about it. It has been such a busy week we even started learning about the Iron Age and wrote amazing diary entries from the point of view of someone living during this period.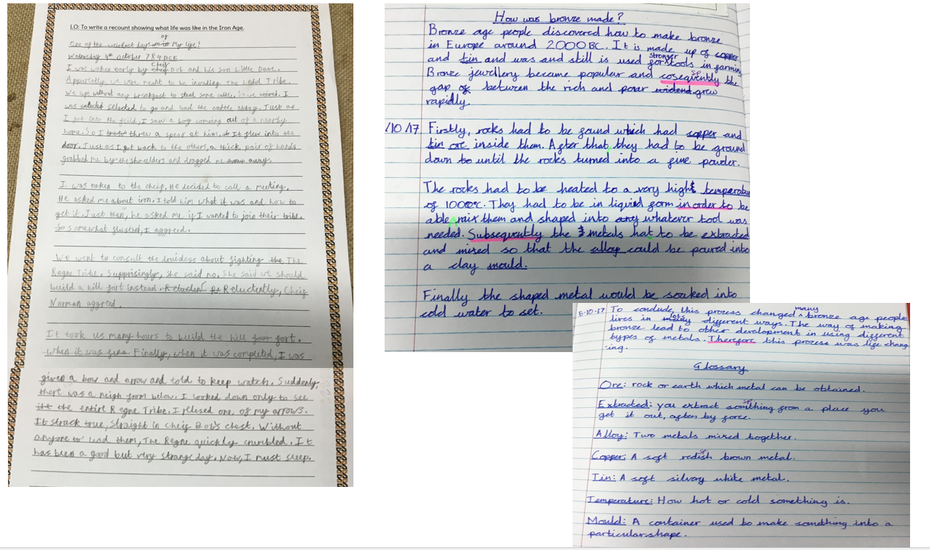 In Maths we have been finding 10, 100 and 1000 more or less than a given number and we had fun exploring this concept through practical timed activities such as making a paper clip chain, building a wall and transferring water to a bucket. Not only did we have to use accurate measuring, we also had to then find 10, 100 and 1000 more or less than our measurement!
We have continued to practise our 'Dudes and Toots' and even started to compose our own melodies this week using the notes we can already play (B, A and G).
Term 1 - Week 4
This week we celebrated National Poetry Day on Thursday, by having a whole week of learning about different types of poems; their features and learning how to create our own Kennings.
In Science we set up an experiment to looks at the effects of different drinks on our teeth. We used hard boiled eggs as their shells have similar properties to our teeth. We have covered each one with a different drink: coca-cola, orange juice, ribena, water and milk. We will let you know what we find out!
Our Harvest Assembly was a great success. We sang songs and heard poetry and learnt facts about Food Banks across the country. Thank you for all your contributions to the food bank.
Term 1 - Week 3
This week in English we have been learning about non-fiction texts and their features. We have planned an information sheet about Stig thinking about subheadings and paragraphs. Next week we will be publishing these.
In Maths, we have been working with 4 digit numbers understanding their place value and how to round to the nearest 10 and the nearest 100. We also had another great "Dudes and Tutes" lesson.
In topic we continued our work on the stone age, understanding how researchers use evidence to learn about the past. We also had a go at making our own clay pots - that was great fun, and they turned out beautifully!
Term 1 - Week 2
We have had another busy week in Year 4. This week in English we have been writing the beginning of the Stig of the Dump story from Stig's point of view. Our grammar focus has been on using "fronted adverbial phases" in our writing. The children have become very good at using them. If your own grammar is a little rusty and you would like to find out more about fronted adverbials, click here for a handy guide we have put together. Here are some examples of the children's writing.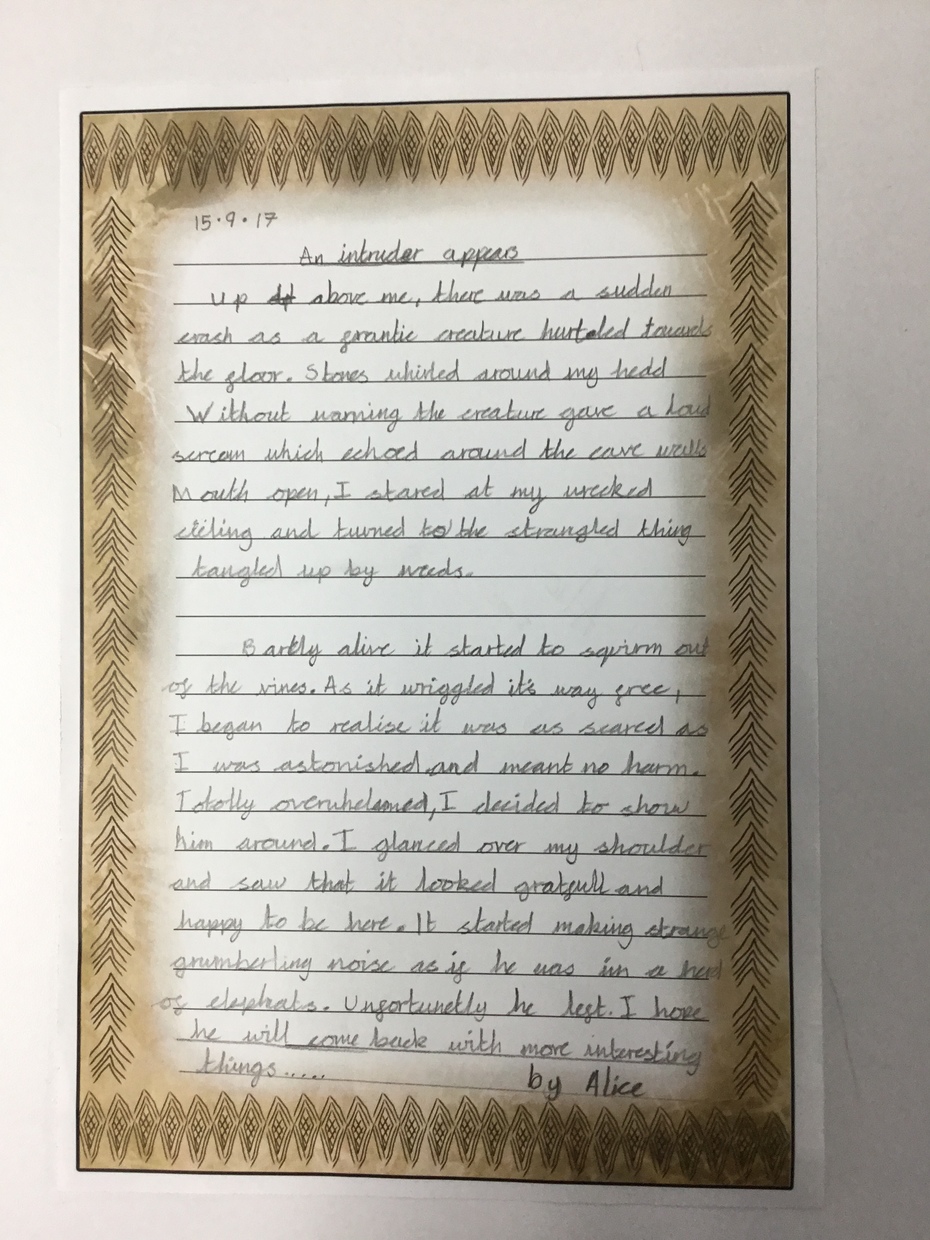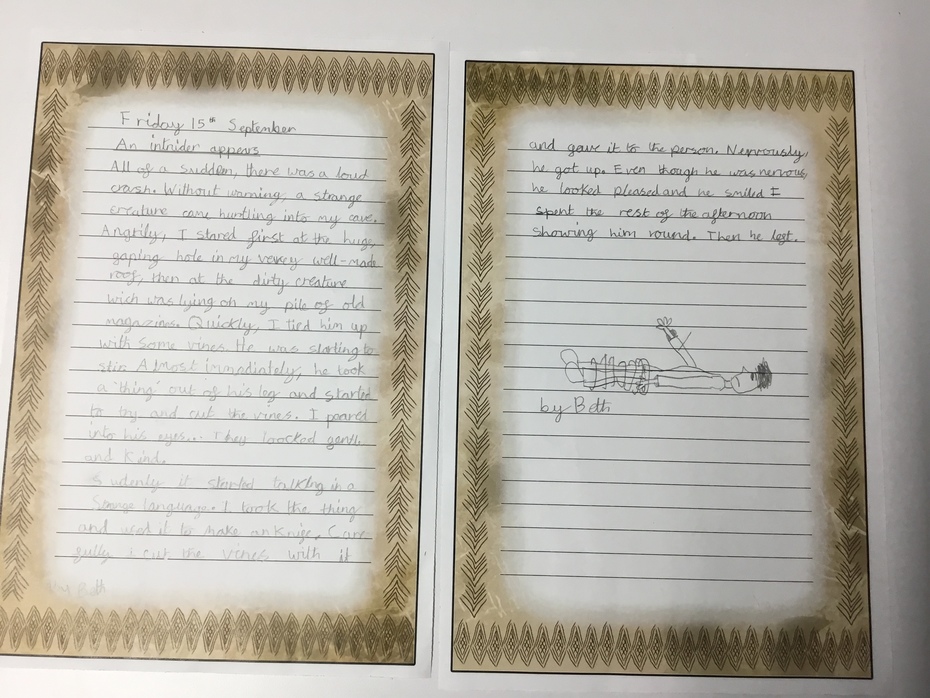 Here are some photos from our Stone Age Dig in Week 1 - it was a great start to our topic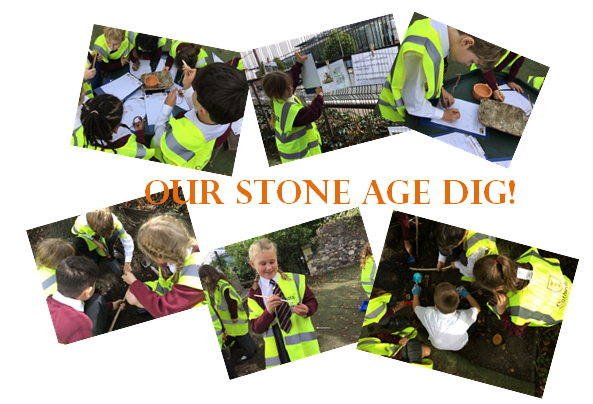 Welcome back. We are very excited to be in our new school! The children have settled into the new space beautifully and seem to be really enjoying practising the new routines.
This week we have had fun introducing our new topic (Stone Age to Iron Age) through an afternoon of digging, sketching and asking questions; we have played some getting to know you games to find out even more details about each other. In maths, we have been revising place value, looking at thousands, hundreds, tens and ones and in English, we have have had fun beginning to study "Stig of the Dump" by Clive King.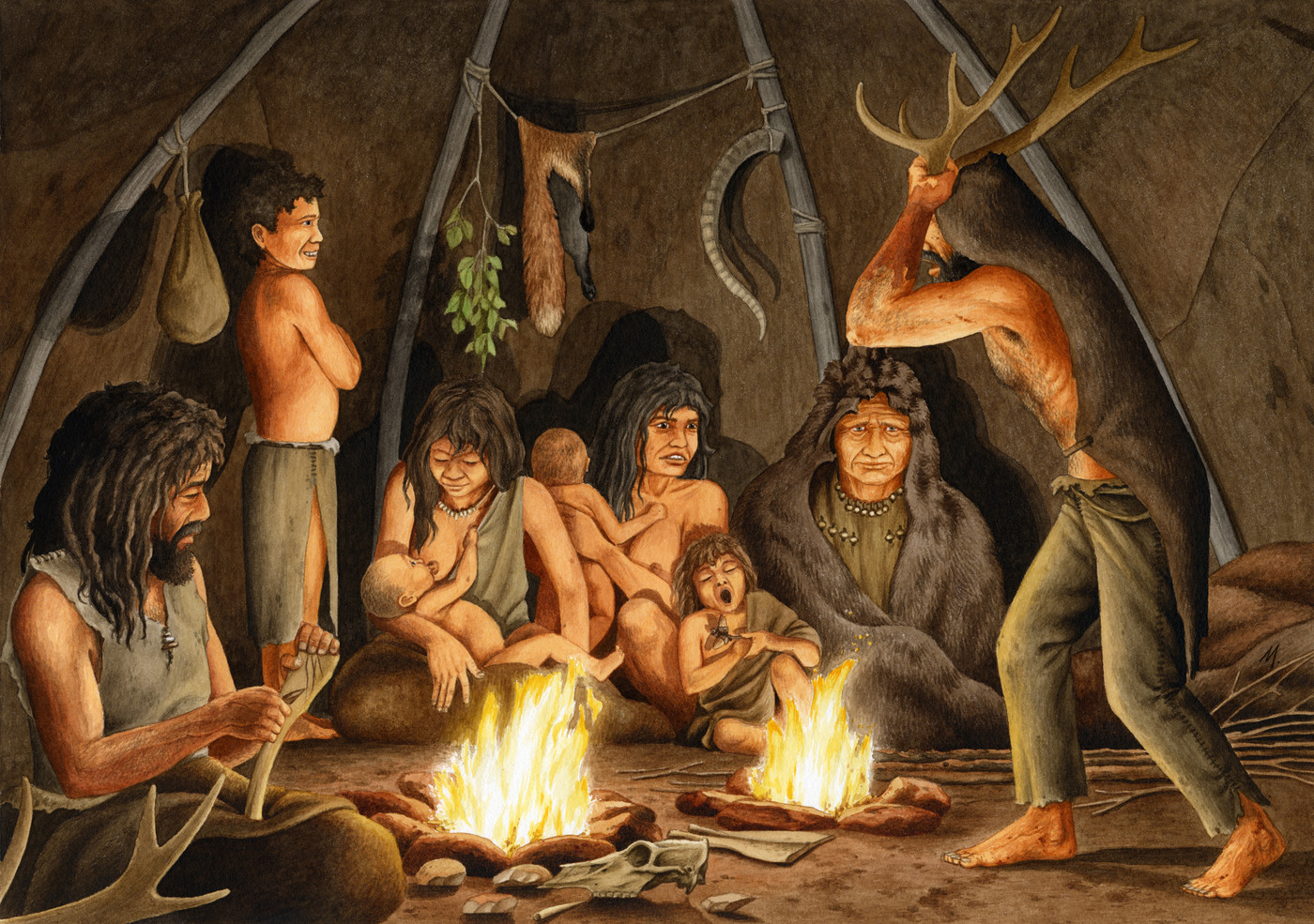 Here is a copy of our weekly timetable in year 4. We will update it each term as PE or Music slots change.